Solar panels help local Hospice
A reduction of $4200 a year in electricity costs is anticipated by Hospice South Canterbury with the installation of solar panels on its Broadway Avenue facility.
The 16.25 kilowatt system comprising 50 photovoltaic panels has been installed over the last week and Hospice general manager Peter O'Neill is delighted with the advantages it will bring.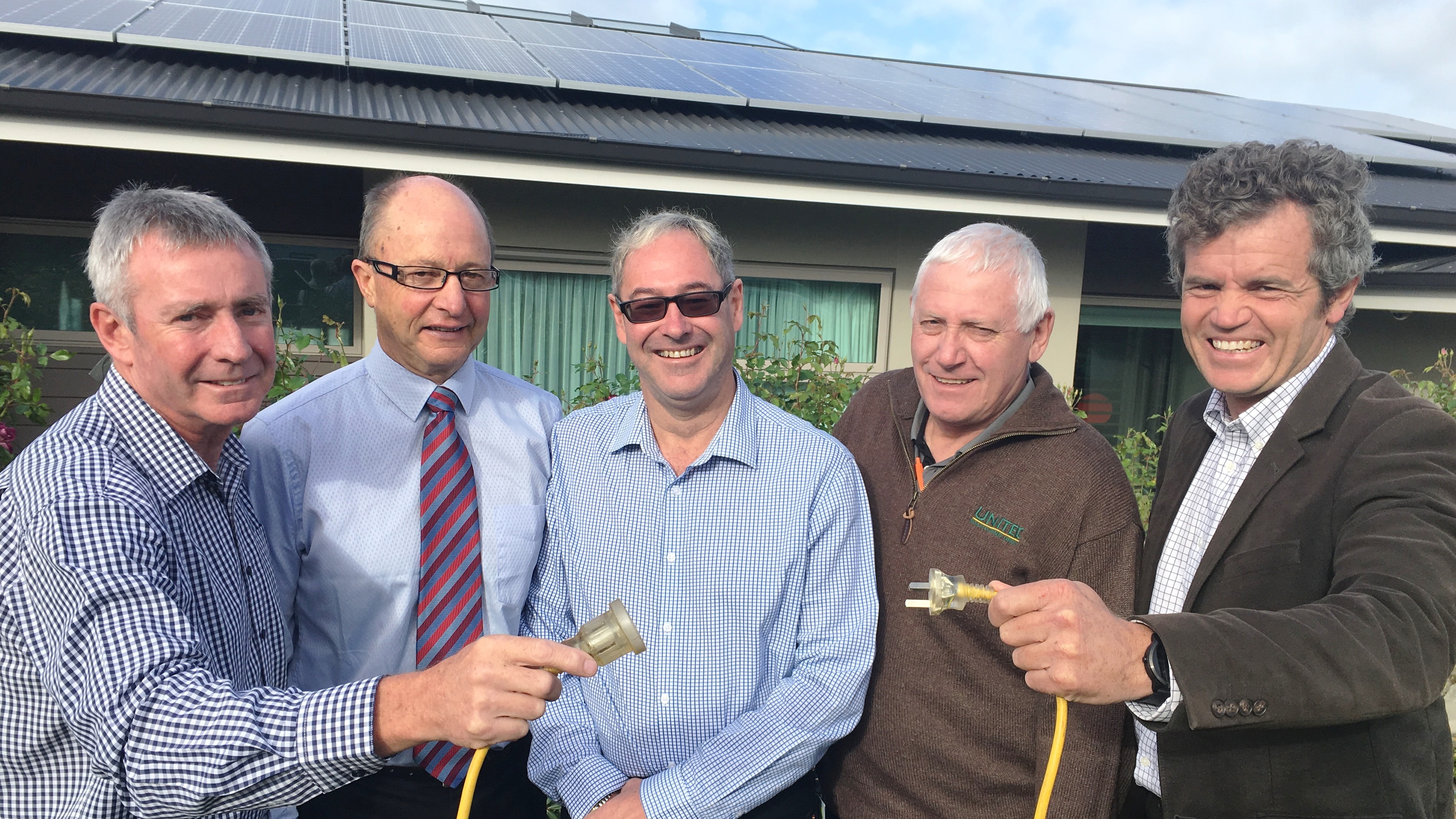 "This should reduce our power bill by 20 per cent a year which is significant over the lifetime of the system. The installation also gives some protection against future increases in electricity prices with the bonus of using renewable energy from the sun.
"Hospice South Canterbury is once again indebted to the community with the cost of the project being met by the generosity of three organisations.
"The St Vianney's Timaru Trust has met the cost of materials with a $27,300 grant, Alpine Energy has paid for the installation costs of $6700, Infratec has proved the design work free of charge and the scaffolding work was donated by United Scaffolding.''
The successful tenderer for the project was Infratec, a subsidiary of Alpine Energy. The time associated with design and procurement was an in-kind contribution from Infratec.
General Manager of Operations George Ritchie said Infratec is pleased to have participated in a fantastic community project and what is the largest solar PV system on the Alpine Energy network.
Alpine Energy group manager, corporate services, Michael Boorer said the project was an exciting opportunity for Alpine to be involved in.
"As well as supporting a worthwhile charity as part of our commitment to the South Canterbury community, the project was also able to demonstrate the ability and innovation of our subsidiary Infratec to deliver alternative solutions for the provision of electricity to our consumers.
O'Neill said while there would be times when the solar system would produce enough electricity to sell back into the national grid that was not the primary aim.
"The main aim is to reduce our power bill. We also looked at the feasibility of incorporating batteries for storing electricity but concluded it was not viable at this time. However, as technology evolves this could be an option and the system could be changed to incorporate storage.''
The solar panel grant continues St Vianneys support of Hospice, with $500,000 contributed when the seven-bed unit was built in 2009. The trust has also recently contributed $17,000 to buy speciality electric reclining chairs for patients.