We provide electricity to homes or businesses across the South Canterbury region.
The diagram shows how electricity gets to your home or business. There are a number of different companies involved in the process.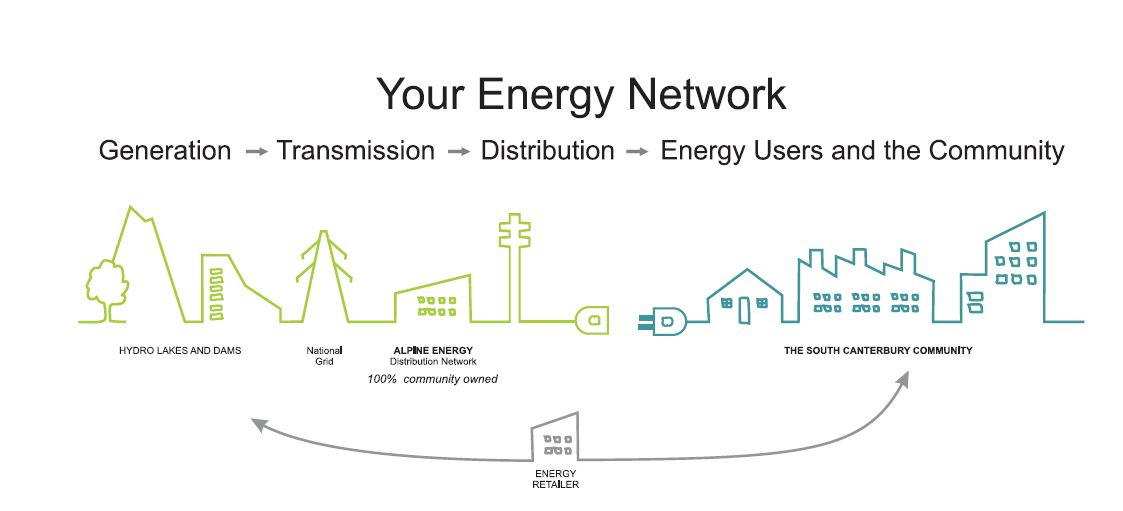 The steps below show how electricity is moved through the various stages to get to you.
Generation of electricity
All electricity generated for retail purposes in New Zealand is sold into the wholesale electricity market for supply to electricity retailers. Several private and government-owned companies are generators - they include Contact Energy, Genesis Power, Meridian Energy and Mercury Energy.
Transmission of electricity
Transpower is the state-owned enterprise responsible for transmitting the electricity produced by generators. It operates the national grid of high voltage power lines and tall metal pylons that traverse the landscape. These pylons connect to the power stations to send electricity around the country.
Distribution of electricity
This is the role played by us and is also referred to as a lines company or network company. We, like all electricity distributors, own the lower voltage power lines and distribution networks in local areas. We connect to the national grid via local grid exit points (GXP's) so we're able to deliver power to the businesses and homes in our region. We are one of 29 such electricity distributors throughout New Zealand.
Retail
The retail providers are most often referred to as power companies and are more well known than the distributors. The electricity retailers purchase electricity from the wholesale market to sell to residential and business users. A number of electricity retailers operate in South Canterbury.
Customer usage
The last step in the process is providing power to your home or business. You can buy electricity from the retailers operating in South Canterbury.